Images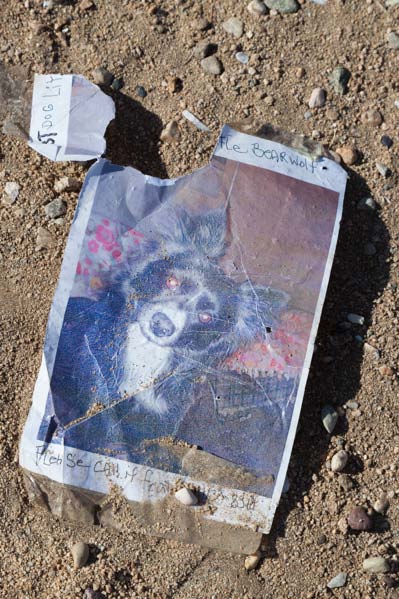 Exhibition visual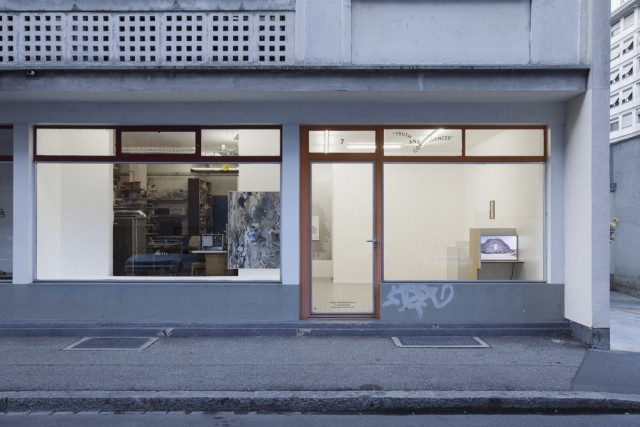 In the Wake
with Steve Bishop
and Philomene Pirecki
exhibition view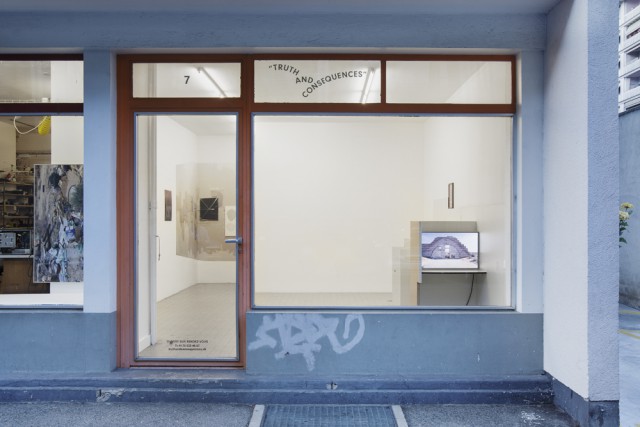 In the Wake
with Steve Bishop
and Philomene Pirecki
exhibition view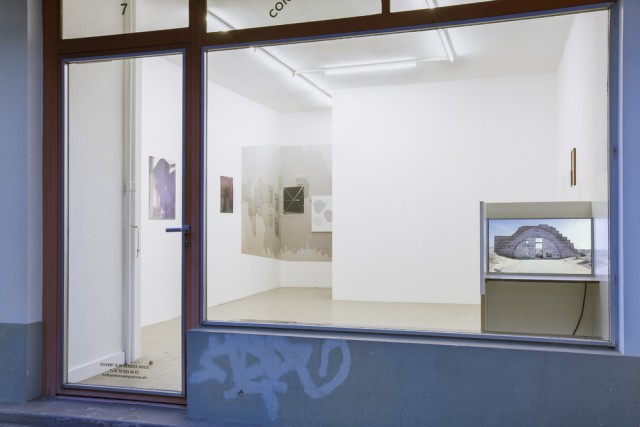 In the Wake
with Steve Bishop
and Philomene Pirecki
exhibition view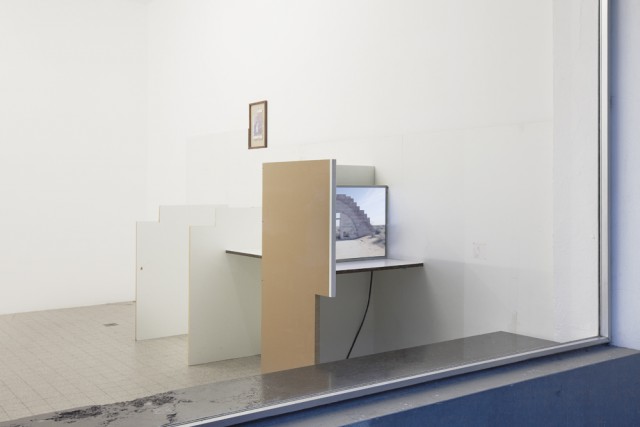 Steve Bishop
I See Them, Do You?
2014
melamine covered board,
photocopy in frame,
video on flatscreen
and backpack
380 x 159 x 78 cm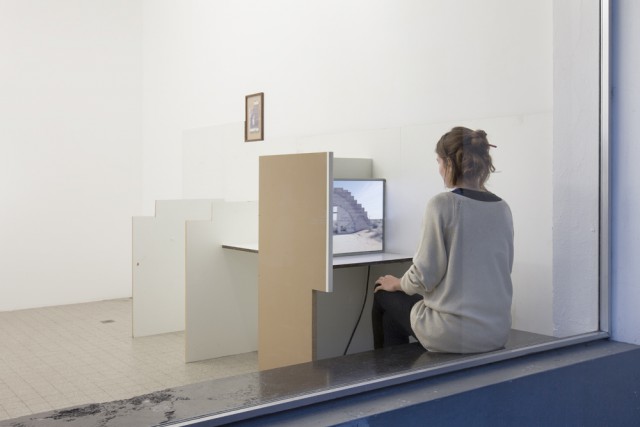 Steve Bishop
I See Them, Do You?
2014
melamine covered board,
photocopy in frame,
video on flatscreen
and backpack
380 x 159 x 78 cm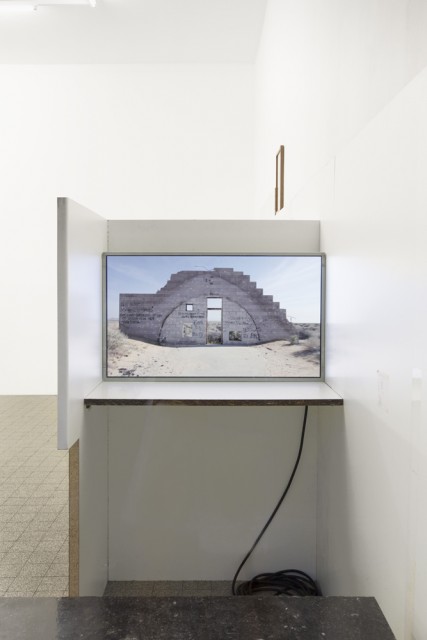 Steve Bishop
I See Them, Do You?
2014
melamine covered board,
photocopy in frame,
video on flatscreen
and backpack
380 x 159 x 78 cm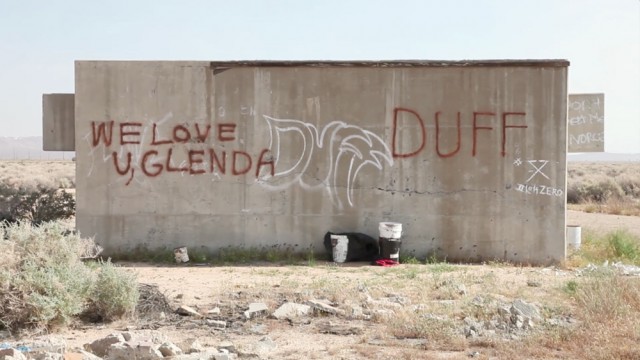 Steve Bishop
I See Them, Do You?
2014
video still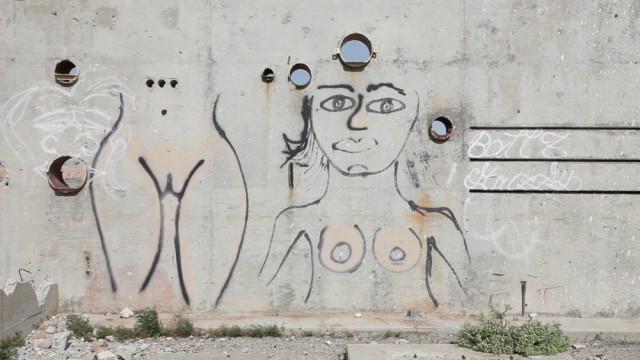 Steve Bishop
I See Them, Do You?
2014
video still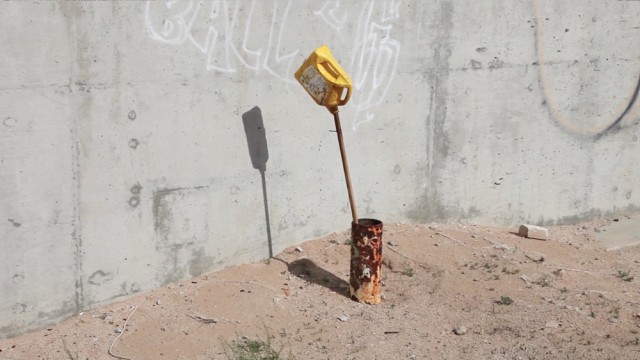 Steve Bishop
I See Them, Do You?
2014
video still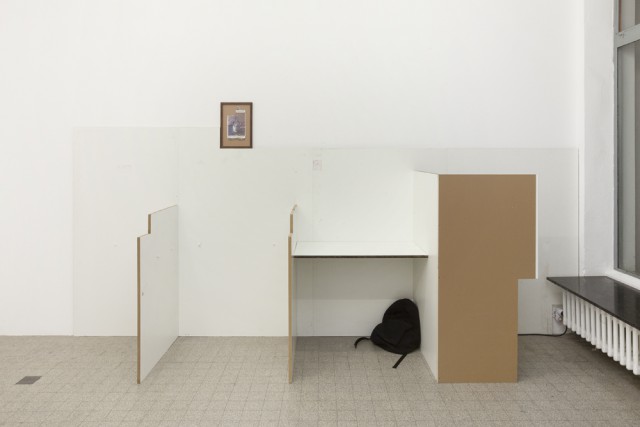 Steve Bishop
I See Them, Do You?
2014
melamine covered board,
photocopy in frame,
video on flatscreen
and backpack
380 x 159 x 78 cm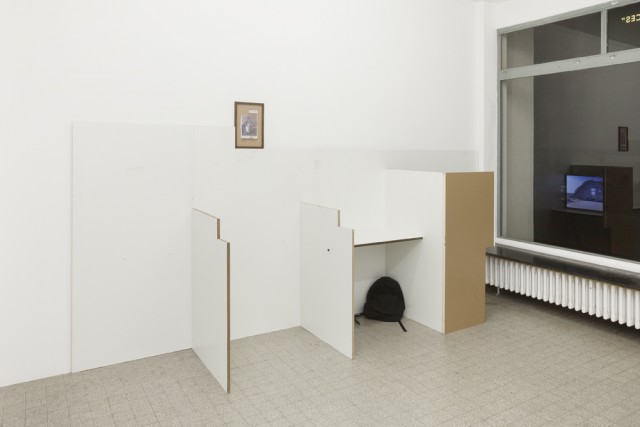 Steve Bishop
I See Them, Do You?
2014
melamine covered board,
photocopy in frame,
video on flatscreen
and backpack
380 x 159 x 78 cm
Steve Bishop
I See Them, Do You?
2014
melamine covered board,
photocopy in frame,
video on flatscreen
and backpack
380 x 159 x 78 cm
(detail)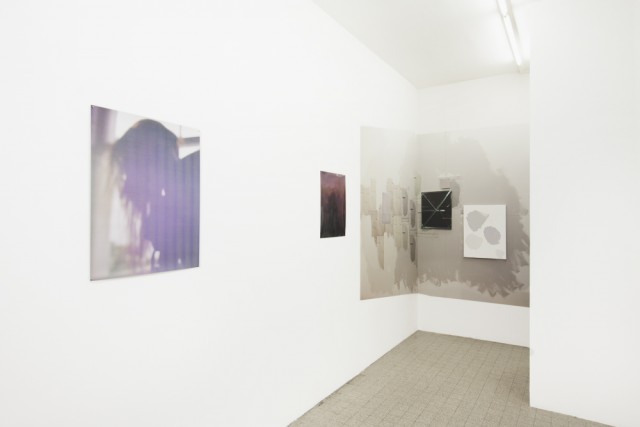 Philomene Pirecki
Left to Right:
Image Persistence
(Reflecting White, 1st Generation)
2014
Reflecting White
(8th Generation)
2014
White Wall, artist's studio
(11:22, 11:22, fluorescent light, 6-8-13) version 2
2014
White Painting
(studio, 11:22, 6-8-13)
2014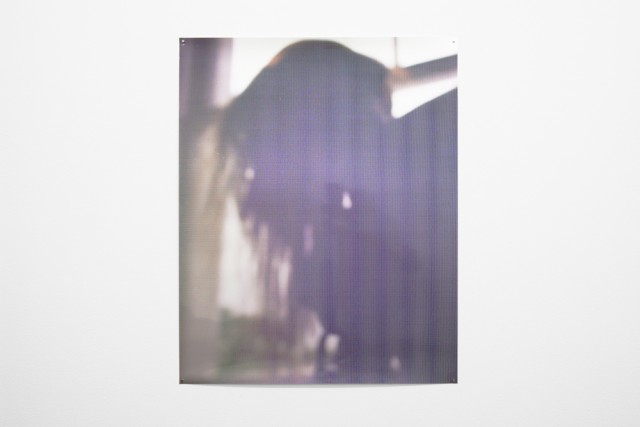 Philomene Pirecki
Image Persistence
(Reflecting White, 1st Generation)
2014
colour c-type
70 x 56 cm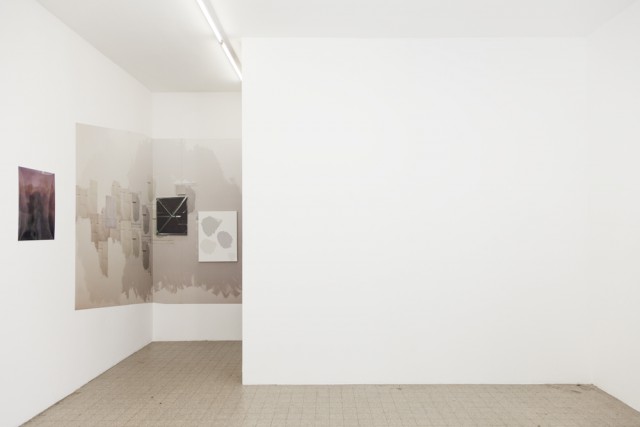 Philomene Pirecki
Left to Right:
Reflecting White
(8th Generation)
2014
White Wall, artist's studio
(11:22, 11:22, fluorescent light, 6-8-13) version 2
2014
White Painting
(studio, 11:22, 6-8-13)
2014
inside the blank wall:
untitled
2014
audio of artist's heartbeat installed inside a cavity wall of the gallery, 4 min loop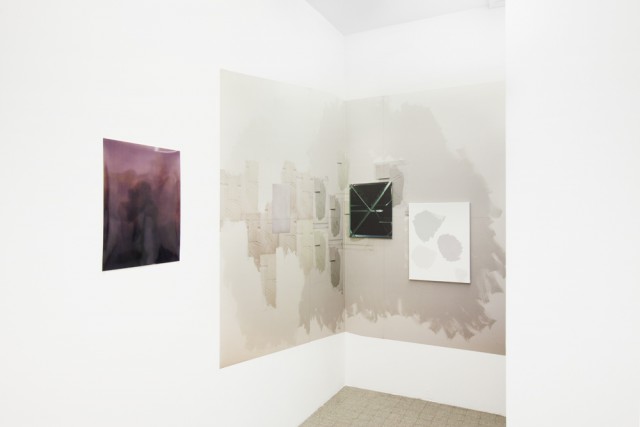 Philomene Pirecki
Left to Right:
Reflecting White
(8th Generation)
2014
White Wall, artist's studio
(11:22, 11:22, fluorescent light, 6-8-13) version 2
2014
White Painting
(studio, 11:22, 6-8-13)
2014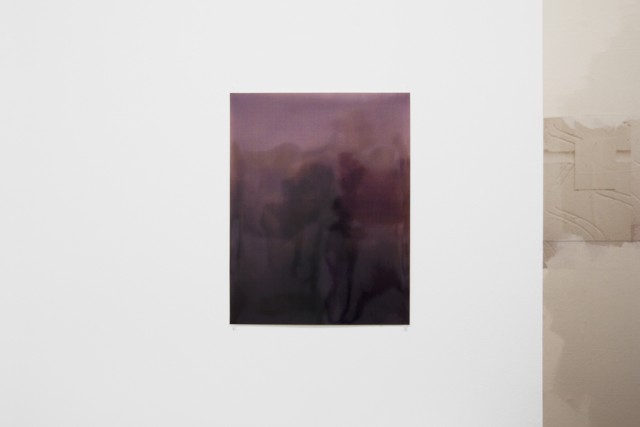 Philomene Pirecki
Reflecting White
(8th Generation)
2014
colour c-type
50.8 x 40.5 cm
Philomene Pirecki
Left to Right:
Reflecting White
(8th Generation)
2014
White Wall, artist's studio
(11:22, 11:22, fluorescent light, 6-8-13) version 2
2014
photographic vinyl
200 x 300cm
White Painting
(studio, 11:22, 6-8-13)
2014
acrylic and custom mixed emulsion paints on canvas
60 x 46 cm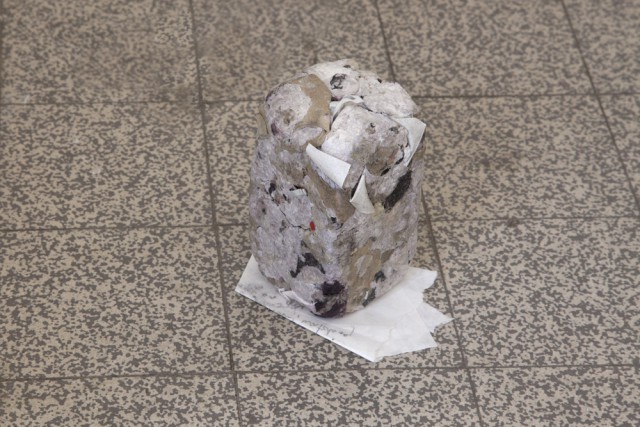 Philomene Pirecki
Together Watching
2014
ink on folded & glued paper
(a poem by the artist is concealed within)
pulped rejected artwork on paper (2006 - 2010)
9 x 5.5 x 5.5 cm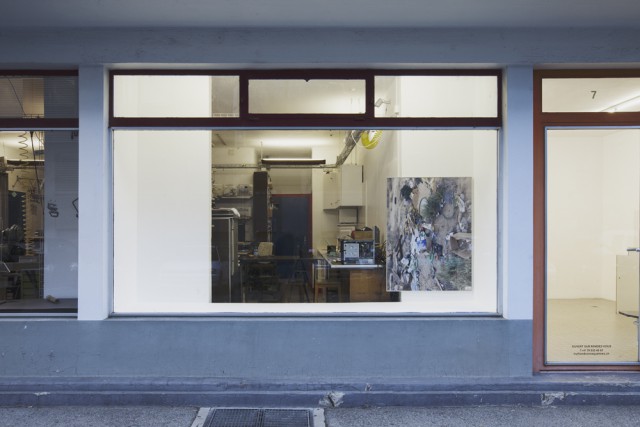 In the Wake
with Steve Bishop
and Philomene Pirecki
exhibition view
Steve Bishop
The Balls After the Break
2014
C-print in frame, stickers
120 x 90 cm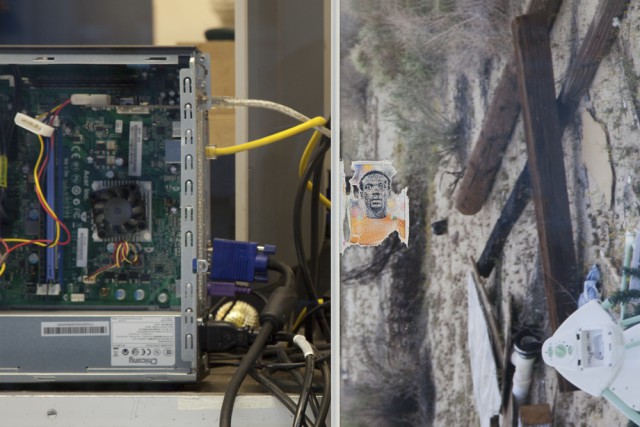 Steve Bishop
The Balls After the Break
2014
C-print in frame, stickers
120 x 90 cm
(detail)
Steve Bishop
The Balls After the Break
2014
C-print in frame, stickers
120 x 90 cm
(detail)
Press Release
In the Wake
Steve Bishop & Philomene Pirecki
Curated by Julia Marchand
accompanied by a booklet with contributions from
Peter Burleigh, Laura McLean-Ferris, Tom Morton, David Price, Bastien Rousseau
& Steve Bishop, Philomene Pirecki, Julia Marchand
click here to consult the PDF of the booklet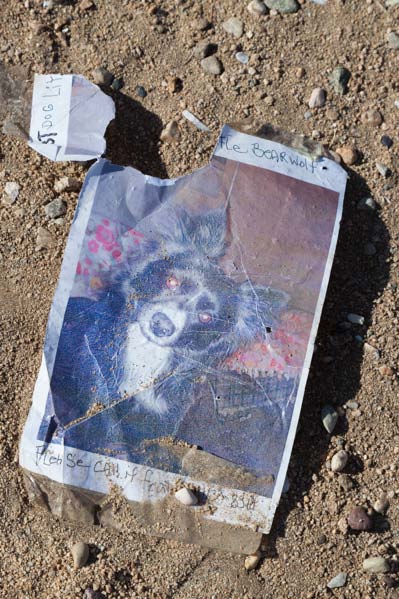 No matter what you sing I will already know what you speak of.
I think.
I think I can foresee. Am I wrong?
My eyes are hearing. I will take a short breath to continue.
The machine for breathing, for slowing down, is twofold.
Or, multidirectional maybe.
Time is a parabola and light exists in a spectrum, he says.
There is the movement of time that makes the time of day,
the time of evening and everything in between.
And now a question is rushing towards me: have they found it?
It is searching for intimacy.




supported by MFA Curating, Goldsmiths, University of London